There are a lot of gaming chairs on the market, and they come with all sorts of accessories such as built in speakers, cup holders and controller holsters, but a lot of them don't provide for your basic ergonomic needs. A lot of the seats modelled on sports car seats may feel comfortable, but they are incredibly sedentary and immobile. Some of the 'lazy-boy' style seats are equally comfortable and pleasing on the eye, but prolonged use can cause neck and back strain.
Perusing reviews of gaming chairs online, you find many negative comments, usually regarding poor build quality, comfort issues, or lack of durability. Because a majority of these chairs are one-off purchases, it isn't in the interest of the manufacturer to make sure their products are of the highest standard.
Dynamic Office Chairs
The biggest rival to these purpose-built chairs is office chairs. Often built based on decades of experience and designed for 8 hours a day use, they can provide great comfort as well as lumbar and neck support. They are also suitable for general purpose use in the home, including home offices, making them a more versatile solution.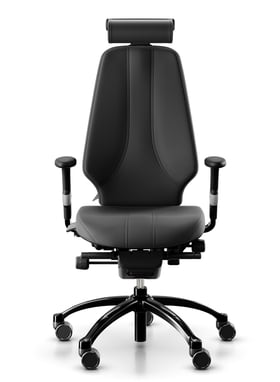 Swedish brand RH has a range of chairs built upon decades of ergonomic experience, and are ideal for desktop gaming.
The RH Logic & the RH Mereo are both solid choices. Fully adjustable lumbar, neck and arm supports, they are ideal for prolonged desktop gaming and come in a variety of colours and fabrics to match your environment.
Although on the higher end of the price scale, they come with a 10-year warranty as standard, and on average are completely functional for 16 years or more.
Candy Crush developers King are big fans of RH, using the RH Logic in their offices in Sweden.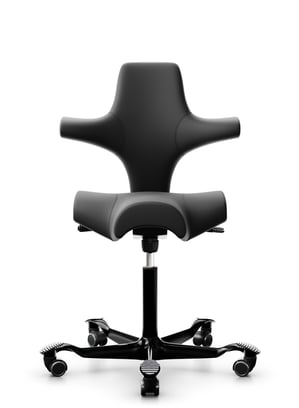 If you are looking for something with a unique style, Norwegian brand HÅG manufacture a range of chairs which require minimal adjustment whilst providing maximum movement, comfort and a healthy sitting position.
The HÅG Capisco and HÅG Capisco Puls are stylish and multifunctional chairs, available in a variety of colours, and you can even customise the Capisco with your own fabrics.
A big plus with HÅG chairs is that they actively encourage movement, due to the unique HÅG in Balance concept. Their open design also allows superb movement and body flexibility, with the option to sit forwards or backwards comfortably. The open design on the backrest is also great for playing guitar (or Guitar Hero!).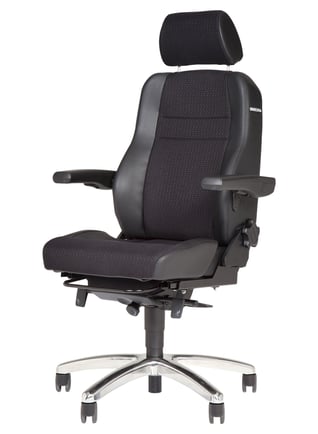 The Secur24 by Dutch brand BMA was recently voted the best luxury office chair by Expert Reviews. Originally designed for 24/7 use at control and emergency centres, it is incredibly comfortable no longer how long you sit on it.
Increasingly popular in the home user market, it is heavily padded, comes with dirt repellent upholstery and is highly adjustable. Able to handle a user weight of up to 150kg, it is a serious bit of kit and a no-compromise solution for the true gamer.
BMA also do a range of smart chairs that monitor a user's posture and provide feedback where necessary. Sensors in the seat register posture. If a user sits in a poor position, then the chair makes him or her aware of this. A vibration indicates when you are sitting for too long in a physically aggravating position!